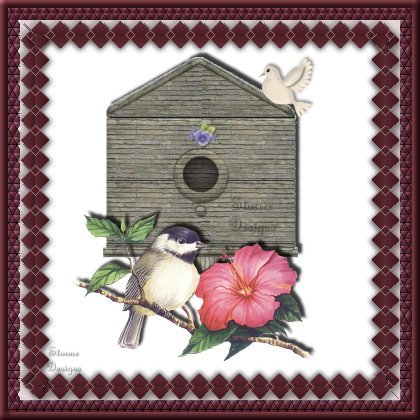 Diamond Tweed Frame Tutorial
Tutorial by Storme Designs.
<><><><><><><><><><><><><><><><><>
You will need only Paint Shop Pro, a graphic and
the Redfield Jama Filter. The Jama filter is freeware and you can
download it at the site.
This tutorial assumes you have some knowledge of PSP.
It was created in Paint Shop 7.
<><><><><><><><><><><><><><><><><>
I was making the Scalloped Shadow Frame and tried
playing with the diamond section of the filter. What turned out
is above and that is the design we will be creating.
It takes a little time, but worth it, if you want to make
your own creation.
<><><><><><><><><><><><><><><><><>
Please save your graphic often as you work in case your
computer shuts down for any reason.
<><><><><><><><><><><><><><><><><>
First choose your graphic.
Choose your graphic, then hit you shift and D key together to make
a duplicate of your picture and close your original. This keeps your
original unaltered for future use. You could also copy and paste
as a new image.
<><><><><><><><><><><><><><><><><>
I usually select colors from the graphic for my border, but
in this case the border is from another picture I was originally
creating for the other tute! The size you make your frame is
up to you. Mine started at about 400x400. This design cannot
be perfect, due to the plug-in used, but gives a nice effect. If you
have a steadier hand, you may make it better. You also want
room for the diamond border on the edge of your picture. If
you don't have room on the graphic you chose, you could
<><><><><><><><><><><><><><><><><>
Once you have your color choice set, click on Image and
Add Borders. I chose size 15.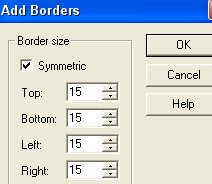 Next select your border with your magic wand.

Now go to Effects, Plug-ins and choose Jama 3d. Click
on the bottom box, where it says Last used on the graphic
below and select Tesselation and click on the Apply button
accepting the default settings.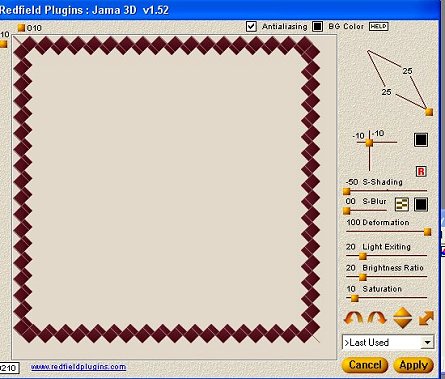 Your border will look like below. Now click on your magic wand again.
You can leave the light triangle as is or floodfill it with a
matching color.
Hold down your shift key and select each outer triangle.
The outer one usually comes out with a lighter color.

If you select a part of your graphic by mistake, just go to
edit, undo and undo and re-select. Now with the lighter
triangles all selected floor fill with a lighter matching color to
your darker triangles. Next, we do the same selecting
with the dark triangles remaining. Once they are all
selected, go to edit, copy and paste as a new image.
Your graphic should look like the one below, but without
the dashes on the top.
Next click on your selection tool set to rectangle as below,
select the top border triangles of your frame.
Go to edit, copy and paste them as a new layer on your triangles.
Go to image, click on flip and now line them up to create diamonds,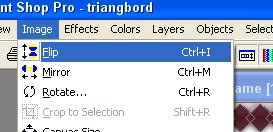 You want them to look like below, when lined up.

You repeat this with all 4 sides. You can erase any part
of the frame you don't like. Once lined up copy and
paste it to your original picture.
Don't forget to save as you go. The hard part is over
and you are nearly finished!
You can leave it or apply a drop shadow, which I always
think enhances most work. Go to Effects, 3D and click on
Drop Shadow. I applied the below shadow.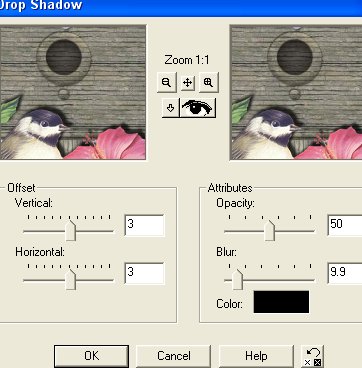 vertical and horizontal set to 3 and opacity at 50
with a blue of 9.9. You can vary your settings as needed.
You can accept black as your color or a very dark color of
your frame. Click on Drop Shadow again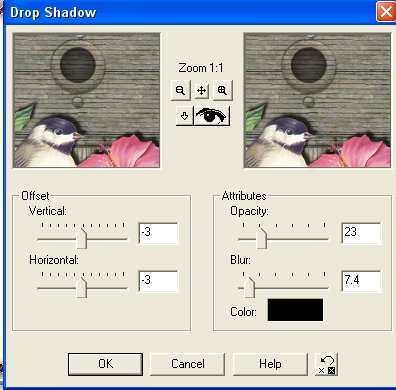 For this drop shadow, we use -3 for vertical and horizontal, 23
for opacity and 7.4 for blur. The color can be black or a dark
color from the border.
You can leave as is or add the next border.
<><><><><><><><><><><><><><><><><>
Now we are going to add one more border. Go to Image,
add Border with the size you would like. I think I chose
about 10 and or 15 for these. Click on your magic wand and
select your new border. Go to Effects, Texture Effects, Tile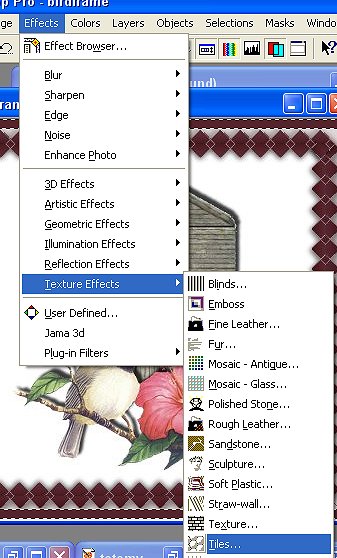 Tiles. Click on Tiles and use the settings as below.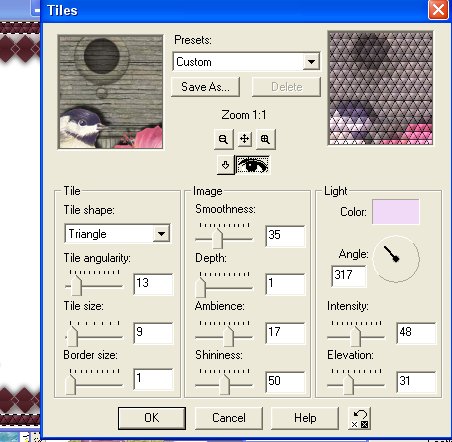 Tile shape is triangle, angularity is 13, tile size is 9, border size is 1,
smoothness is 35, depth is 1, ambience is 17, shininess is 50, my color was a
medium pink, angle is 317, intensity is 48 and elevation is 31.
You can leave as is or add an inner bevel as I did.
I used the round setting, with a width of 4, smoothness 21,
depth 2, ambience 0, shiniess 42, color is white, angle 315,
intensity 50 and elevation 27.
You're done! Hope you enjoyed it!
<><><><><><><><><><><><><><><><><>
If you notice anything that needs correcting, because I
did the tute days after I did the frame, just let me know.
Would love to hear from you too, if you tried it or
any of the other tutes!
<><><><><><><><><><><><><><><><><>
Below was done without adding the triangles for the diamond look.
Just applied a drop shadow and the outer border.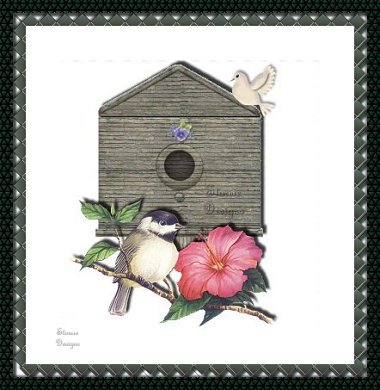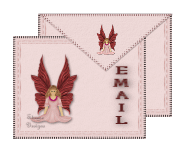 Check our main Tutorial page for new Tutorial listings at
<><><><><><><><><><><><><><><><><>
This tutorial can be copied intact without the backgrounds with
credit to Storme Designs,
The web page background set cannot be copied without permission.
http://mystyqcat.tripod.com/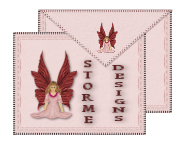 <><><><><><><><><><><><><><><><><>
We have a new Descriptive Index of our Tutorials at Tutorials.
Our Site Index is at Storme Millennium Index.
<><><><><><><><><><><><><><><><><>
[TearDrop Adoptions][Holiday Quilt][Anniversary][Autumn][Realtor][Quilt][Quilt Exchange]
[Library]

[Home]

[Parlor]

[Gifts][

StPat

]

[Vacations]

[Care]

[Study]

[Help]

[Shelf][Adoptions
]
[Web Page services links]

[Millennium]

[Ocean Ring]

[Help Links]

[Garden]

[Add link]
[Game][Stars n Stripes Porch][Condo][MadCat Pad][Graphics][Haunted Courthouse][Knot]
[Care][Birthday][Valentine Quilt2][Hostess][Banners][Newyear][GOF Blossoms][Stratford]
[Name Quilt2][GOF Anniversary04][Valentine Quilt][Name Quilt][GOF GalleryII][Celebrity]
[GOF gallery][GOF Birthday][Garden Quilt][GOF angels][Island][Snow][Ring][MahJong]
[Samples][Hugs][Lounge][Furship Lodge][AdoptionPorch][Anniversary][Balcony][Welfare]
[Den][Designs][Halloween][Quilt2][Millennium][Quilt3][Loft][Tutorials][Fireworks][Lists]
[Award][Links][Island2][Cards][Garden Friends][Gof Birthday][Condo][tutorial index]
[Index]
[Postcards]
[

Loft
]